1930s Bring Changes to Topanga

Around the same time that the Los Angeles Athletic Club (LAAC) bought Lower Topanga in 1924, its President, William May Garland (1866-1948), also managed to get Los Angeles selected as the host for the 1932 Summer Olympics.
The LAAC's attention suddenly shifted away from constructing a Topanga Yacht Harbor to preparing for the Olympics, while completing other projects already underway: building the Maple Ranch Gun Club near Bakersfield (1925), the Riviera Country Club in the Pacific Palisades (1927), and acquiring the Pacific Coast Club in Long Beach for another yacht harbor (1928).
The LAAC had hoped to increase their Topanga property's value by operating the only yacht harbor in the Bay but were disappointed when Santa Monica began planning its own harbor by the Pier in 1926, and eventually built it. In 1926, Rhoda May Rindge (1864-1941) began losing the fight to keep her Malibu Ranch private when the state seized part of her land and began building Roosevelt Highway. 
By 1928, Cooper's Camp had been converted into the Topanga Beach Auto Court, managed by J. C. McGray. William Randolph Hearst, who had also invested in the beach property, is blamed for giving out five-year land leases. Meant for camping and vacation cabins, the leases allowed residents to become more established and newcomers to build more homes. The LAAC reluctantly became landlords, presenting another obstacle to their development plans.
The LAAC loved polo and built no less than four polo fields at Riviera. In November 1929, they started building another at Topanga, presumably in the Rodeo Grounds, but that same month their California Yacht Clubhouse in San Pedro burned down. Attention again shifted away from Topanga developments and the Great Depression that began one month earlier further limited the LAAC's spending.
The LAAC's proudest moment was when their planning for the 1932 Summer Olympics was rewarded with 49 medals, including a gold in yacht racing. This was a huge boost to the USA, which won the Olympics with 103 medals total. By comparison, Italy was second with 36 medals.
Meanwhile, Lower Topanga remained in limbo, making it easier for bootleggers to operate there. The raid on Deputy Sheriff William Edward Harris's speakeasy in 1925 did not break up the bootlegging ring as was claimed, because a year later "higher-ups" John W. York and his wife Ruth of Topanga Beach were arrested for selling whiskey.
York had been at the beach since at least 1923 and continued to live in the area until around 1932, when a fire burned two cabins he owned on Topanga Lane. The fire started in the cabin he rented to L. W. Medina when wind blew embers from the fireplace into the drapes. Even though it was pouring rain, the cabin burned to the ground. The fire went on to damage York's home, a third cabin, and burn part of the hillside. Assistant Fire Warden Thomas Cheney (1889-1959), the son of Topanga pioneer Columbus Cheney, suffered an eye injury when he slipped on a roof and fell face first into the stream of a high-pressure hose.
Less noteworthy were the arrests of two men for passing out "moonshine" at The Yellow Cab Company's beach picnic in May 1927. The cabbies' two-day party is worth mentioning anyway because of its parade of decorated taxicabs and its bathing-suit contest for the girls in the office.
Things, however, turned violent in February 1928, when three "rum-runners" were surprised unloading liquor from a speedboat early in the morning. Officers sprang from a hiding place in the rocks to arrest them, but quickly dove behind the rocks again to escape "a hail of bullets." A. B. Clift, 37, and Allen C. Smith, 29, were captured, but the third man escaped in the speedboat.
Around this time, a Greek fisherman, John Founboankos, lived at the beach and benefitted from a foiled bootlegging plot when he found three barrels of whiskey floating offshore and brought them home for his own enjoyment. In January 1929, another Greek fisherman, Christ Yianulis, made an unexpected discovery at sea when he found a 20-foot basking shark in his net two miles offshore. With the help of Mike Loomis and Captain Spear, Yianulis fought with the shark for four hours, almost sinking his boat before making it back to Topanga Beach. Hundreds of drivers stopped to look at the nearly 3,000-lb. shark in amazement.
In June 1929, a new Justice of the Peace, John L. Webster, was determined to rid Malibu of its reputation as a hideout for bootleggers. He was particularly upset by a recent raid on Topanga Lane, where residents had been kept up by "the offensive carousal of a liquor party." Three men had been arrested and brought before him at "the ghostly hour" of 2:30 in the morning, which reportedly set Webster "over the top in a war against peace disturbers who make the nights hideous with hilarious liquor parties."
Other criminal activity included a "possum bandit" who played dead in the road to get drivers to stop. In 1926, in the Pomona area, the possum bandit managed to scare all his victims away by jumping up too quickly to rob them. In 1927, he tried again at Topanga Beach, but the car full of people he intended to stop were spooked because of the late hour and decided to drive around him instead. They reported the sighting at the next telephone, but the possum bandit was gone when deputy sheriffs arrived.
In 1929, the possum bandit (or a copycat) did finally rob someone in Los Angeles. This time he teamed up with a gunman, who hid behind a telephone pole, and they made off with the driver's car and wallet.
On February 5, 1928, a crime with a twist happened.
Courtney Worthington, 20, and Margaret McDonald, 17, went on a drive to the beach with double-daters Rupert Duncan and Loretta Burger, both 17. At the Topanga intersection, they were forced to stop after something popped two of their tires. While the boys did repairs, the girls went for a walk on the beach.
The girls never returned, and after searching for two hours, the boys reported them missing. Speculations ran wild. Had they drowned? Had they been kidnapped? Had they run away, even though their parents could think of no reason why they would? The Sheriff and police sent search parties into the hills and along the beaches.
People began calling in with tips. A passing driver said that he'd seen the girls being stopped on their way to the beach by a man in a "large roadster." A taxi driver said that that night he'd driven the girls and two men from a Silver Lake apartment to a street corner in Glassell Park, where the girls lived.
The strangest part was when Police Lieutenant William L. Fore and one of his officers accepted the help of mystic Sidney R. Deacon (1860-1952) and his "mysterious wand for finding lost persons." Deacon's invention was "composed of 10 or 15 tiny tubes of different lengths," and supposedly could find hidden minerals and oil as well. Millionaire Joseph Hemmel came along for support, assuring Fore that Deacon had found his wife all the way in San Diego during a test of the wand's powers.
To make the wand work, Deacon said that he had to wear the shoe of one of the lost girls on his left foot. Lieutenant Fore swore that when Deacon put the shoe on, the wand "quivered and strained in the inventor's hands as on a leash." After three hours of wandering around the beach, the group ended up at the half-finished mansion that Austrian businessman Leon Kauffman (1873-1935) was building for his wife Clemence (1886-1932) to fulfill her dream of having a castle by the sea. The Villa de Leon remains a coastal landmark, towering above the entrance to the Getty Villa.
The Kauffmans were not home, but Hemmel knew Leon, and called to get his permission to enter with a caretaker. Deacon then led the group into the kitchen, where the wand pointed insistently at the stove. They opened the stove and found…nothing.
On February 8, the missing girls were found safe in San Pedro. When Fore called Deacon to tell him, Deacon pondered for a moment, then suddenly realized that his belt buckle was made of the same metal that had decorated the Kauffmans' fancy stove. He took off his belt and assured Fore that his wand was now pointing to San Pedro…but was he still wearing the girl's shoe? Deacon begged Fore to let him prove his invention in the next missing person case, but Fore didn't call again.
Detectives found the girls in a room at the Maryland Hotel with three men, one of whom had secretly tipped off Loretta Burger's father about her location. Moving between hotels under fake names in Los Angeles, Bell, Watts, and now San Pedro, the girls confessed, with more giggles than tears, to having run away. 
"[Courtney and Rupert] took too long to change the tires, so we walked to the beach. A couple of nice boys gave us a 'lift' to Ocean Park. We went to a dance hall, and then home on a streetcar. There were lights in the house, and we were afraid to go in…. We got a kick out of seeing the kidnapping story in the papers." ("Two Kidnaped Girls Found in San Pedro," San Pedro Daily News, 2-9-1928)
Another irresponsible youth who caused a scare was Charles Hudson, 20, said to be Burbank High School's student body president despite his college age.
On May 5, 1928, Hudson's fraternity threw a full-moon party at Topanga Beach. A warm breeze blew, the ocean was calm, and the night was bright enough to see Catalina Island. Anchored just offshore, a white canoe glowed in the moonlight, giving Hudson a rush of adventure. When he expressed his feeling that he could navigate it to the island on such a perfect night, his classmates laughed and turned his reverie into a dare. Impulsively, Hudson propped up a sheet of tin that he found on the floor of the canoe and sailed off.
The next day, after no word had come from Catalina or elsewhere, Hudson's classmates reported him missing. Fortunately, he was soon found safe on Point Dume. He described the ordeal that landed him there, after 13 hours in the water.
"I left the beach…about 11:30 o'clock Saturday night…. I got about 15 miles out and clouds hid the moon; then a heavy fog descended, the compasses went haywire, and all I could do was paddle…." ("Youth Lands in Canoe at Point Dume, Will Try Catalina Again," Santa Monica Evening Outlook, 5-8-1928)
Grateful to be alive, he ached all over, and spent the next day in bed. "But I am not discouraged," he declared. "I am going to try again when I am 21."
Pablo Capra is a former Lower Topanga resident, and continues to preserve the history of that neighborhood on his website, www.brasstackspress.com, and as a board member of the Topanga Historical Society, www.topangahistoricalsociety.org.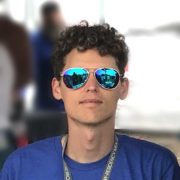 Pablo Capra is a former Lower Topanga resident, and continues to preserve the history of that neighborhood on his website, www.brasstackspress.com, and as a board member of the Topanga Historical Society, www.topangahistoricalsociety.org.